what u eat is what u are, so its also mean.. what u choose it reflect on what u are.. especially character and personality.. agree?
arini, kampus dibasahi hujan.. biasa lah petang2 skang ni... asek ujan je kn? kalo xbwk payung sentiasa, lenjun la hehari!! pastu alamatnya demam la plak... so terpikir lak td.. ramai yg gne payung td,.... "mcm2 ada" .. n me pn terfikir, payung yg dowg guna tu msti mgambarkn karakter dowg kn? uhuhuhuhuh... yg pakai payung kaler pelangi or bunga2 mesti jenis yg ceria kn? uhuhuhu *interisting person", tp kalo yg choose to use yg plain kaler, msti die sowg yg simple~ *nice person" or mgkn if yg guna payung yg lain dr yg lain, xkira la in terms of corak or style payung tu kn.. mesti jenis yg adventuruos kn? uhuhuhuhu...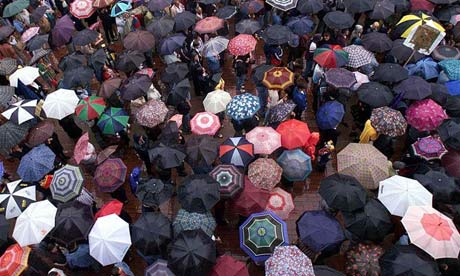 mcm2 ade
haaa.. whicj one u choose?
tgk?? air pn pakai payung taw!! huuhuhuh
huuhhuhu.. tu just my assumtion.. (tidak termasuk mereka yg meminjam payung sesape je td k) abislaaa pasni owg nk pilih payung pn mcm pilih tudung la jdnya~ jd tren gitu~~ hahahahaha btw, nice to see all these~ ^_^
p/s: its up to everyone to chose what u want, kaler ke... corak ke... or nk tukau2 ekot tren pn blh... asalkn.. function payung tu tuk cover kita dr terkena panas mentari or hujan tu still available la naaa... jgn sampai nk berfesyen punya pasal.. guna payung gempak gila... tp bila guna... kalo ujan, kita yg berpayung lbh lenjun dr owg yg x berpayung~ ahaksss~